Big Magic - Book review
It's serendipity when you find a book that inspires you to the core. The writer of Eat Pray Love, Elizabeth Gilbert, takes us on her own journey of creativity. She argues that the creative process should not be a slave driver, but a passionate pursuit to create something more. It's not about the end product, but the process and internal gain itself!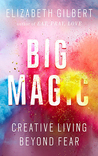 Big Magic: Creative Living Beyond Fear
by
Elizabeth Gilbert
My rating:
4 of 5 stars
This book will inspire everyone to find their creativity. I am sure of it! It's not about the creation, but about the process of creating something. It's not about the creation being good, but the "Big Magic" that happens to the creator. I thoroughly enjoyed this book with the anecdotes about real life creators. I also love the fact that we should not go through pain to create, but to just enjoy! Thanks, Elizabeth!
I am going to start writing now! :-)
View all my reviews
What are you reading now!